Hydration skincare products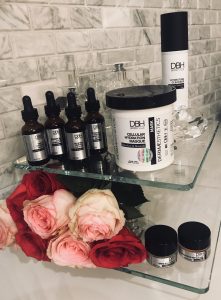 Hi there. I'm happy you stopped by because your skincare routine is very important. From 2011 to 2013 i was a esthetician instructor at Rancho Santa Margarita Cosmetology college program. With that being said, this is how I met the wonderful skincare line Dermaestetics of Beverly Hills. The founder and owner Mrs. Lee is a Dr in chemistry and I can insure you that she knows all the in's and outs when it comes to making a product for corrective and preventative skin damage,rejuvenation and health. It is important to treat your skin on the outside like you treat your body on the inside, for example if your thirsty you drink (hopefully water ) so if your skin feels flakey, dry and looks dull then you need to treat it (give it some love.
In the winter our skin needs extra hydration. To remove your make up Dermaestetics has a Green Apple oil cleanser , you start with this to remove make up and dirt. Tip- do not use this to remove your eye make up if you have eyelash extensions, the oil cleanser will breakdown the glue. I suggest using the oil free Andrea eye Q's remover pads you can get at target or amazon. Second you follow up with the hydration cleanser, keeps your skin soft and hydrated and is great for Rosacea. Dermaestetics has the best serums I've ever come across, they are concentrated so you just need a couple of drops and a little goes a long way. Vitamin B moisture is super hydrating for your thirsty skin and you can also dab this around your eyes avoiding the lid under the hydration eye cream. Next use Essential face therapy serum, this should only be used at night for it is thicker and oily. Top this off with Super Moisture cream. It's yummy and smells devine. Once a week you can use the Hydration mask and this mask is soft and does not harden , leave it on for 15-20 min and remove with warm water, then apply your serums , eye cream and moisturizing cream. If there is one compliment I get on a daily basis it's always about how beautiful my skin is but it's only because I put in the time it takes to keep that glow on  Use a special 20% discount code on your order HYDRATE20 , you can order all products at www.bellavolto.com, if you have any issues simply please email your order to bellavolto@gmail.com so we can process your order promptly.